English | Español
Noospheric Development Centre Mexxicamelot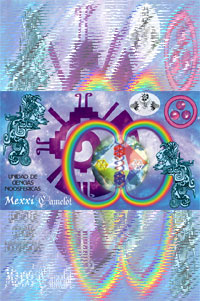 location

Mexico, La Llave, Municipality of San Juan del Río, Querétaro State.
Contacts
Aida Seguin, Magnetic Wind, mexxica@live.com.mx
Language
Spanish, English & French.
Website
Site Structure

Land Size
Number of permanent kin residing
None yet; project is in planning stages.
Details for visitors
We cannot receive visitors to stay over at this moment, but if someone wants to come over to visit the land where the project will develop, visitors are more than welcome.
Needs
As we are in the very early stages for this project, at this moment we need donations to pay for the paperwork to create a NGO (approximately $500 US); we need as well kin that could help design the centre (from an architectural and permacultural point of view). Once this stage is completed, we will list materials and/or skills of kin that may wish to participate in the project.
Daily Practices
General Overview and comments
Events
Photos