English | Español
PAN Polar – Dragon Forest Peace Gardens 13:20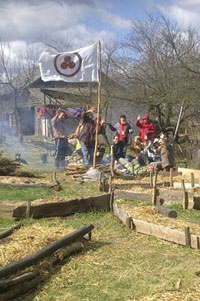 Project currently on hold, seeking sponsors & support
location

Poland (sun bio-region), Stary Bobrowiec
in the Pomorski Province
Lattitude: 53°46'14.36"N
Longitude: 18°40'26.85"E
Contacts
Rafael (Afghan Dreamweaver) Kin75
afghanplanetmen@yahoo.co.uk
tel: (+48) 889.275.935
Language
Website
Site Structure

There is a house/cottage (74m2) which is functional, but in need of organic renovation, with an attic that will be converted into living space. An attached outside room which needs heating (i have a masonry heater which can be constructed in this room). Nice workshop space, summer kitchen with another room and cellar (water system is here). Sties, which can be partially demolished and the brick recycled. Also the sties can be converted into living space. We have a nice barn too. Accommodation would be in the house presently. For summer we have a nice area by the creek for camping, tipi, yurts, domes, etc. Basically all the structures need organic renovation work. We have a massive supply of clay here and a private forest which needs some stewardship and will offer in return wood for construction.
Land Size
Number of permanent kin residing
Afghan Blue Planetary Eagle kin 75
Martin White Self-Existing Dog kin 30
Mayinka Yellow Resonant Star kin 228
Gosia Blue Resonant Storm kin 59
...and then there are 3 dogs, 2 cats and 4 goats.
Details for visitors
Well the financial upkeep (tax, electricity, internet) of this space is very reasonable: around 2000 zl per year. So about 500euro! For the kin who decide on joining the project here and living here – LAW OF KIN (see bellow) applies. Share the costs basically. For people who wish to come here for shorter periods of time... again LAW OF KIN applies. There will be no one asking you for financial contribution, but there will be a magick hat (box) where you can donate moon'ey energy. Don't be surprised if it comes floating by you before a shopping mission. Also, we are not self-sustaining. This is the first spin for this site and we will be having to buy most the food. LAW OF KIN! Sharing responsibility is true caring... and daring to go to the next level. This is the incipient creation phase of The Dragon Forest Peace Gardens 13:20 center. Come with an intelligent heart, knowing that your Hands will be the most valuable tools here. Please share your skills, be humble and understanding towards each other. The focus in this present is to create the gardens, to renovate and redesign existing structures, to construct new structures – whole systems design – holonomic permaculture!
Very important is that you do not bring any non-organic substances onto this land. Go to the length and supply yourself with good biological toiletries! If you are a smoker (quit) please treat each cigarette butt like your new born child and keep it with you until you leave! Apparently a cigarette butt takes 300 years to biodegrade! Think of your great great great great........ great children! OK, everybody knows the drill. Plastics, cans, glass bottles... everything here should be recycled. Many items which are considered to be rubbish are actually misunderstood resources (permaculture). Use the recycling center that will be available! Be a Rainbow Spirit!
What is understood is that we are all in a process of change now. We are expected to exert our energy towards each other and our living environment. Don't be afraid to go into your archetypes here. Remember the party of today is a true celebration of all the aspects of existence, not a one dimensional doof doof doof.
Of course if you come here for an event, be it a seminar, workshop, healing ceremony, concert, etc. then please come prepared to pay the asked cost for the event. Or contact us if you can offer help or materials as trade.
LAW OF KIN:
The Law of the Kin is a fourth-dimensional (higher, natural, inherent) law. It is the only law known to the fourth-dimensional holon (higher self). Autonomy, equality and loyalty are the three mutually self-regulating expressions of the law of the kin.

Autonomy describes the holon's use of free will to explore the imagination in pursuit of its goals. It is impossible for one holon to impose upon or forbid another holon from being in it's free will.

Equality means that all planetary kin are related and have equal place and power within the Dreamspell. The planetary kin abides by and applies the law of kin to all situations. The planetary kin is the one that knows and becomes skillful at reading the Dreamspell Oracle.

Loyalty means that the ego is faithful in carrying out the holon's instructions as mediated by the planetary kin.
Abiding by the law of the kin, it is up to the planetary kin to see to it that the ego does not impose it's will upon another.
By loyalty to the law of the kin, no planetary kin can decline the least invitation to adventure posed by another planetary kin. Any adventure so undertaken must be carried through to the end. All adventures must be recounted at the Court of the Kin.
The Court of Kin is a round table called by any planetary kin. The purpose of gathering together as planetary kin is to receive accounts of completed adventures and to determine new adventures. A court of the kin may be convened whenever and wherever any planetary kin deems it necessary and appropriate. Assembly of the court of kin should ideally occur on the 12 tone crystal day of the wavespell.
Adventure is any action undertaken by the planetary kin on behalf of attaing the goals of Timeship Earth 2013 (the highest good of all and of our great mother earth).
Needs
Skills: natural building, permaculture, gardening, carpentry, masonry, metallurgy, alternative energy systems, crafts, music, juggling, yoga, dreamspell, reiki, ah... you know the jazz

We need materials to create this center. Tools, glass panes, water cisterns (can be constructed), ceramic tiles, building equipment (eg. Concrete mixer, stone gravel, etc.), fencing for the gardens... lots of deer and boar in this region. We can plant wild berries along the fences for the animals yeay! We are looking for paint (eco natural). Yes, everything that will help construct the Peace Gardens, structures and for renovation.

Organic seeds of all types are most wellcome!!! Old-strain trees, all types! Fruit, nut, to build a hut even! Legumes like acacia.

In the current financial system we are still in, we can always use cash support. Should you be in a position and wish to support us in this way... feel free to donate!

Most of all we NEED, REQUIRE, INVOKE, and DREAM awake PAN to come together and make it happen! NOW is the TIME ~:-)
Daily Practices
Responsible Freedom, in it's fullest sense. We base this center on the 13 Moon Calendar/Synchronometer Dreamspell System using wavespell technology, however the only radical behaviour that is wellcome here is the kind that leads to a radical change of perception towards our interconnectedness with each other, our living environment and the universe at large. Our most high practice is: learning to feel at Home and making Home where we are in the current moment. All practices are very wellcome here – provided they do not infringe on another's freedom of choice (free will) and that they bring no harm to any living creature (this does not apply to chopping veggies during bhakti yoga sessions of course hehe). What is understood about any practice is that it is fundamentally based on intention. Keep that pure and hold true to your essence (amazzzing practice!) and UR practices are wellcome.
General Overview and comments
First and foremost it should be mentioned, for inspirational purposes, that this land space was acquired on Yellow Galactic Sun – Pacal Votan Clear Sign.

It is known that it is up to us to make it work. Decision making will be made by a council of residing kin at the Court of Kin (see above).

The Ultimate Vision for the PAN Polar Dragon Forest Peace Gardens 13:20 is to create a self-sustaining harmonic base (Tollan matrix) comprising not only of the gardens and food forest, but of an ecological, ergonomic emanation center too; built from different organic, recyclable materials and techniques; such as earthships, super adobe domes, cob, strawbale, etc., which will serve as a practical space for teaching and learning these very building techniques, and also for workshops and seminars, ceremony and ritual, and of course as a landing platform for the Galactic Federation AHO! The journey is the destination, the future is NOW. Take what is given! 2013 here we come! Time is Art!!
DRAGON FOREST GATE OPENING
What we need is seed!
A rebirth of the Genuine Breed
That will bleed it's love back into the Earth.
We seek holonomic Gaia geeks... permaculture freaks
All who have awoken to the Truth: "NOW it's time to do it for this Earth!"
Resources?
We need hands, artistic friends,
trends that will take us away from financially motivated descisions
...healers, visionaries, organic builders and constructors – whole systems designers
...and the materials that turn imagination into creation – we are a cosmic nation!
We seek motivators, serpent initiators, garden culture creators... root vibrators...
Music makers... pathfinders
Yogis, reiki masters, wizards and shamans, seers and world-changers...
Plant and tree arrangers
New Time Eminators, Dreamspell Illuminators, Dragon Riders...
Paradise on Earth Realisers
This is not the Time for stalling... ...This is the Dragon Forest Calling!
Events
Photos