English | Español
CREST13 - Mt. Belukha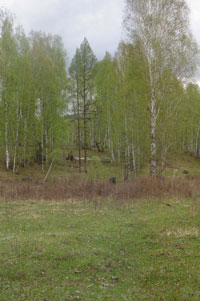 Updated 2 Feb 2012
location
Russia, (Siberia), Altai Republic, Ust Koksa District, Tyungur Village
Россия, (Сибирь), Республика Алтай, Усть Коксинская район, с. Тюнгур
Contacts
English language: Carol Hiltner - carol.hiltner@gmail.com
Русский язык: Светлана Шатровна Катынова - svet.altai@gmail.com
Отметьте: Светлана - часто вне интернет-диапазона в течение долгих периодов.
Language
Either English (to Carol) or Russian (to Svetlana)
Website
Site Structure

Currently camping only. With funding for materials ($18,000), construction will begin in summer 2011. Center will be built in the traditional Altai horse-shoe configuration with 13 structures (10 yurts or a'ils and 3 teepees around a central firepit. See schematic. It is a public location. Main function will be as an Altai cultural center for the purpose of re-vitalizing the beleaguered, sacred indigenous culture that is steward for the sacred lands. For deeper meditation, more remote locations are available as guests of the local indigenous community.
Land Size
15 hectares meadow and birch forest between the main road into the village and the Katun River
Number of permanent kin residing
Currently no permanent residents. Because of extreme winter climate (below -30°C. for months at a time), this will be a summer-only center for non-indigenous residents for the foreseeable future. In the summertime, the weather is warm but wet. It is a tourism center for trekkers going to Mt. Belukha.
Details for visitors
No fixed policy is set, and substantial planning is necessary for any visitor. For foreigners, including citizens of former Russian republics: Beyond the readily available Russian visa, an additional permit with a two-month lead time is required by the Russian border guard. For Russians, registration with the border guard is strictly enforced. Admission is denied unless papers are totally in order.

Tyungur is a subsistence farming community, so some staples can be purchased, but no produce, except by special advance arrangement. Individual visitors would be expected to compensate for the effort required to support their visit, with money and/or work, as arranged with Svetlana Katynova. For an economical introduction, see the 2011 International Altai Expedition at www.AltaiMir.org/trekinfo.htm.
Villagers are warm and generous, but generally keep their distance from tourists. Altai Mir University and Svetlana Katynova have done a huge amount of pro bono work for all of Altai, but particularly for Tyungur, and the community is grateful, so doors should be open for development of solid relationships.
Needs
Yes. As of spring 2010, site plan is being developed with an architect.
Daily Practices
General Overview and comments
The entire Altai Republic is very high energy sacred land. The most powerful fields precipitate healing crises, which generally take the form of emotional up-wellings. Nonetheless, Altai's reputation as a place of healing brings hordes of summer tourists who take a high toll on the land in exchange for the miniscule amount of currency that goes to locals.

Therefore, it is very important that we consciously respect the both the land and the human stewards by generous financial and/or labor contribution for the welfare of the indigenous community - beyond whatever is paid for direct tourist services received. This is important for remediation of Soviet cultural repression as well as to offset the flood of exploitative capitalistic development there. Svetlana Katynova is a reliable coordinator
for such contributions.

A lot of introductory information can be found at www.AltaiMir.org, and all donations made through that site go entirely to priority projects in Altai. If you want a donation to go specifically to the CREST13 program, let Carol know by e-mail at carol.hilltner@gmail.com. 2011 building materials for the CREST13 Center are expected to be $18,000.

Altai Mir University is planning an international expedition to trek in to Mt. Belukha in July 2011 (see www.altaimir.org/trekinfo.htm for details). If the Altai CREST13 Center calls to you, this is a rare opportunity to scope it out with the savings/convenience of a like-minded group.
Events
Photos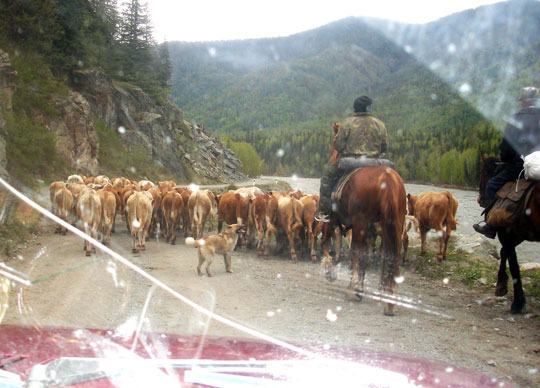 On the way to the site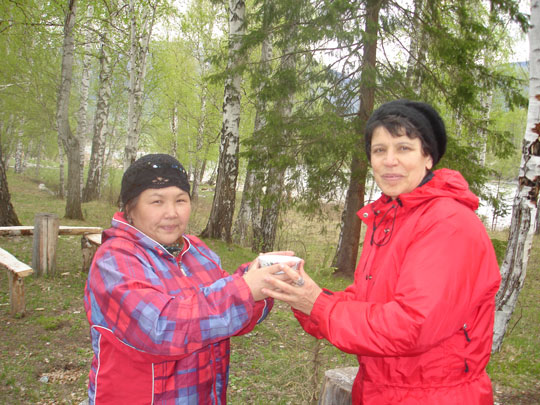 Svetlana Katynova and Carol Hiltner consecrating the CREST13 Center land in 2007 with a traditional ceremony using fermented horse milk. The Katun River is behind us.



Tyungur Camp panorama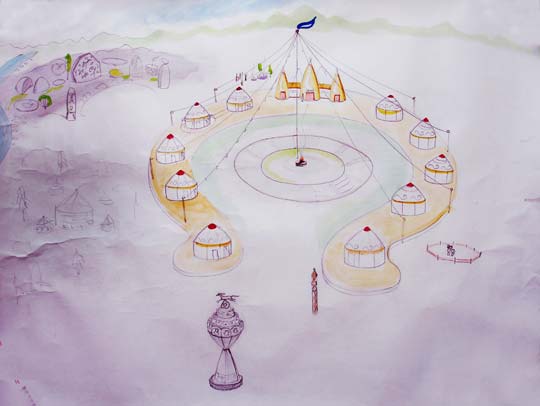 Site schematic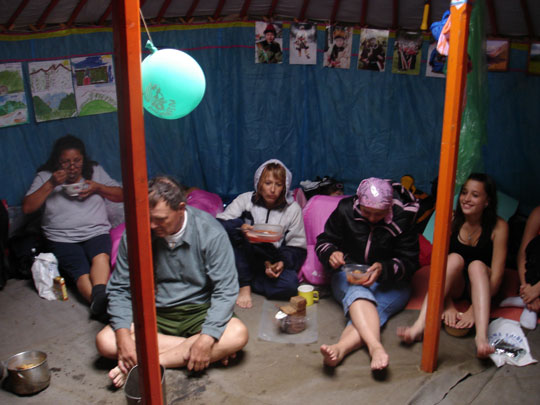 Inside the yurt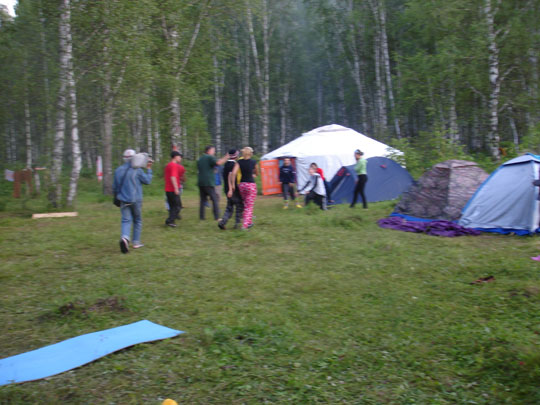 Touch football at our youth leadership camp in 2007